Why Choose Us?
Fast, Courteous Service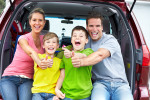 We look forward to providing you and your family with fast, convenient service every single time you visit and pride ourselves on the speediness of our service technicians. All of our technicians are skilled in automotive oil changes and maintenance having been educated by the Automotive Oil Change Association and BG Automotive Products, one of our preferred premium automotive fluid and parts providers.
Well-Trained Technicians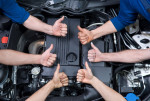 Your car will always be in good hands with our automotive technicians. All of our automotive technicians must submit to rigorous training and testing from institutions such as The Automotive Oil Change Association and BG Products. The training never stops either, as we require all of our automotive technicians to continue training throughout their career with us. With extensive training like this, you can be assured your vehicle is in good hands at any of our 4 convenient locations across Mid-Michigan.
No Appointment Necessary
Magpie Oil Change is always ready for your car or truck, with minimal waits, beautiful waiting rooms and efficient technicians.
Warranty-Approved Service
All of the services we provide are manufacturer warranty approved, we'll never void your warranty! Now that is peace of mind!
We Let You Wait In Your Car!
This has got to be one of our customers favorite courtesies, invaluable to parents across Michigan. It's not always the easiest thing to move the family pack, and we understand. That's why we opt to let our customers choose whether they would like to wait in our sparkling waiting rooms or wait in the comfort of their own vehicle as it is serviced. We find that this can alleviate some headaches for many of our customers, that's why we offer it!
4 Convenient Locations To Serve You
Lapeer
3 Oil Change Bays + 1 Extra Large Oil Change Bay for Larger Vehicles
Burton
2 Oil Change Bays + 1 Service Bay
Grand Blanc
2 Oil Change Bays
Walled Lake
2 Oil Change Bays
30,000 Oil Changes A Year Can't Lie
That's right, we perform over 30,000 oil changes per year! That's an oil change every 18 minutes when you get down to it! We are Mid-Michigans' #1 choice for oil change service centers!